The Synchronous Firefly Event
June 28, 2019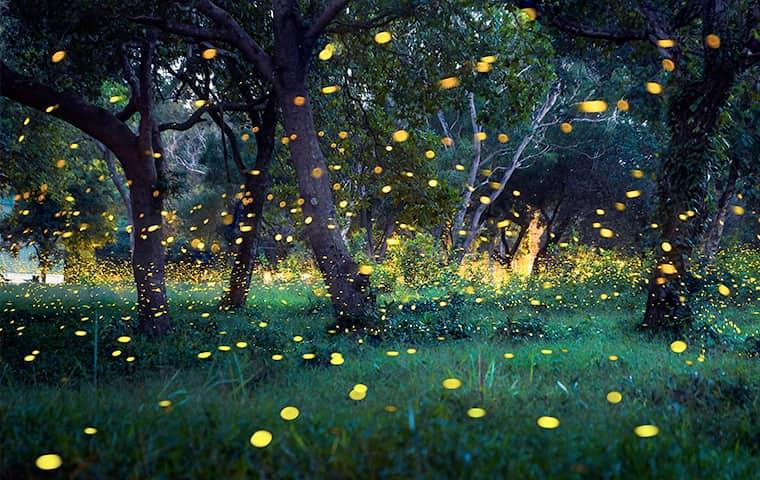 Have you heard of synchronized swimming or synchronized skating? How about synchronized fireflies? We recently had the opportunity to take in one of nature's most incredible spectacles along with some of our colleagues in the pest control industry. It was the synchronous Firefly Event at Great Smoky Mountains National Park. Words can't describe the beauty we saw.

Great Smoky Mountains National Park is home to the species of firefly known as Photinus carolinus. It is the only firefly species in the United States capable of a synchronized lighting display. That is to say, they all start lighting up at the same time and they all turn off at the same time. The result is nature's version of the 4th of July—thousands of glowing orbs zipping around in the night air

Why do these fireflies do this? For two weeks, from May to early June, it is mating season for this species of firefly. And all of the males compete for the attention of the females by lighting their abdomens. The brighter the glow, the more attention they get. Rangers in the park and their entomologists study temperatures, weather patterns, and rainfall to pinpoint when this mating ritual will begin and they use the data collected to plan the timing of the event.

What is the cost of this once-in-a-lifetime experience? Only $2.00 per shuttle passenger with a $20 reservation fee. Each reservation holds a parking spot for one vehicle of no more than six firefly spectators. So the cost can be as low as $5.35 per person if you bring a car full. But you have to compete for those inexpensive spots. There are only 1,800 parking passes available. And, with close to 30,000 applications put in for the spots each year, getting a spot is like winning the lottery. In fact, they refer to it as a lottery and some people wait for more than 5 years to be selected for a spot.

The park also has a few large vehicle passes that cover groups of up to 24 guests. Tammy Johnson of Johnson Pest Control in Sevierville TN won a large vehicle pass and we were invited to go along with her and other associates in the pest control industry. All-American Pest Control, Griffen Pest Solutions, and A-1 Termite & Pest Control were some of those who joined us. It was a great opportunity to see old friends, make new friends, and share a once-in-a-lifetime experience.

The synchronous Firefly Event at Great Smoky Mountains National Park is an amazing experience, one we hope all of you can experience at least once in your lifetime. If you do decide to go, just make sure to get your lottery ticket in on time!
< Previous
Next >