Serving Greater Jacksonville & Northeast Florida Since 1957
Lindsey Pest Services, a local pest control company with a proven track record, is dedicated to improving the quality of life for its customers and banishing pests that threaten people and property. If you're experiencing a pest problem, choose the company that resolves even the most challenging pest problems with effective, efficient, and environmentally friendly pest control solutions.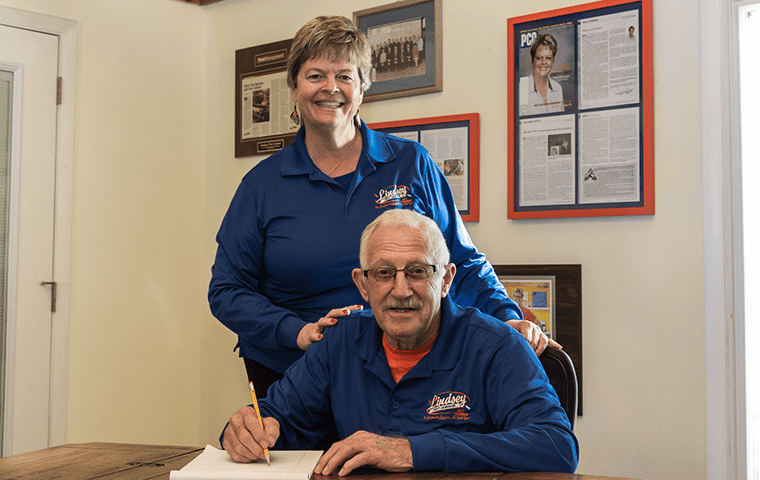 Passionate About Pest Control
Lindsey Pest Services is a locally owned and operated pest control company in Jacksonville, led by Jennifer Leggett. As president of Lindsey, Jennifer actively serves the industry in numerous leadership positions, including past presidency of the Florida Pest Management Association (FPMA) and board member of the National Pest Management Association (NPMA). In 2011, Jennifer was named the NPMA's Woman of Excellence; the highest recognition bestowed on a woman in the pest management industry, a worldwide distinction. Along with her husband, industry professional Dr. Claude Thomas, Jennifer provides volunteer education for the industry. The dynamic couple is also international speakers who have a passion for their profession and are well-versed in topics such as termites, bed bugs, control methods, and proper application techniques.
This industry involvement not only helps to advance the industry and its professionals but also keeps Lindsey Pest Services on the leading edge of the industry and provides customers with the most current technologies and effective services available.
Why Choose Lindsey Pest Services
We focus on preventing pest problems and employing chemical alternatives and practical solutions wherever possible to protect homes and families while also protecting our environment.
We provide pest prevention, elimination, and extermination services for a wide variety of pests, including but not limited to ants, rodents, bed bugs, termites, fleas, spiders, and roaches.
We train all our experts regularly to ensure we are the most knowledgeable pest control company in Jacksonville, Florida.
We employ prompt, efficient, courteous pest control technicians who respect your time and your property.
We are QualityPro certified and have earned the "mark of excellence in pest control."
We offer our residential and commercial clients customized services and guarantees.
What It Means To Be QualityPro Certified
To become QualityPro certified, you must follow strict guidelines and adhere to standards set by the National Pest Management Association (NPMA) that far exceed those required by state and federal regulations. QualityPro certification distinguishes companies that strive to act as leaders and pioneers to provide exceptional service to consumers across the country.