Bed Bug Control In Jacksonville: What To Do About An Infestation
December 9, 2021
Bed bugs (Cimex lectularis) are tiny parasites with a flat, oval-shaped body and a reddish-brown appearance that is often compared to an apple seed. Although they will feed on warm-blooded animals, they prefer to seek out human hosts, particularly while they are sound asleep in their Jacksonville homes.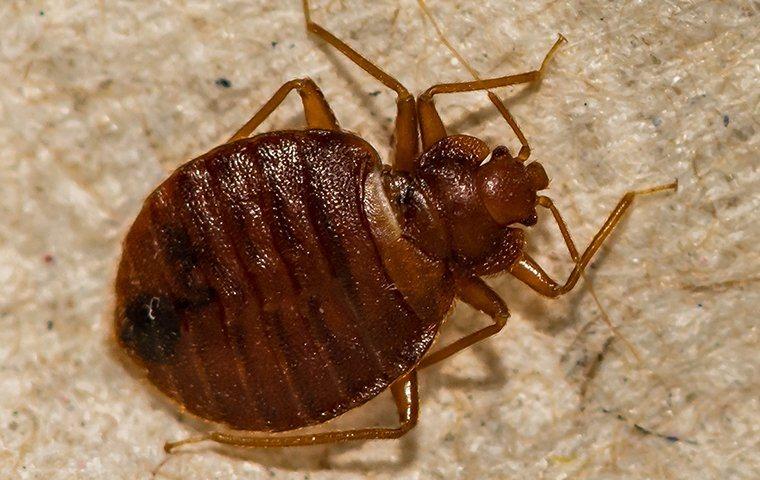 Bed bugs are primarily nocturnal creatures that typically hide near sleeping areas within cracks, carpets, or furniture during daylight hours.

People who are victimized by bed bugs often wake up and notice patches of red and itchy skin on areas of their bodies. Bed bugs usually leave signs of their presence, including small blood stains on sheets, mattresses, and pillows. Drops of blood are usually accompanied by black stains that result from their excrement.

There is a misconception that bed bugs are attracted to filthy or unkempt properties; however, this is a fallacy. Fortunately, unlike many other parasitic pests like fleas and mosquitoes, bed bugs are unlikely to transmit diseases among their hosts. In many cases, victims that are struggling with an infestation develop significant anxiety and have tremendous difficulty sleeping.
How Bed Bug Infestations Start
Travelers often encounter bed bugs when staying in hotel rooms or other overnight accommodations or when using mass transportation such as trains or busses. Bed bugs will often climb into purses, suitcases, or piles of clothing and end up being transported back to the homes or businesses of these individuals. They also are commonly brought into homes with second-hand furniture or appliances.
Difficulties In Preventing Bed Bugs
Some of the primary challenges in eradicating bed bugs are as follows:
Property owners are typically unaware that they are transporting bed bugs within their belongings.
After feeding, bed bugs retreat to hiding spots that make them difficult to detect and may shield them from exposure to basic pest treatment options.
Many recommended pest prevention methods are inapplicable to bed bugs, i.e., sweeping up crumbs, sealing exterior entry points, etc.
Why Is It Important To Seek Professional Assistance?
Many Jacksonville property owners either misidentify bed bugs are some other types of pests or fail to recognize the signs that suggest an infestation is developing. In the meanwhile, these pests are laying dozens of eggs each week and expanding their presence throughout the property's interior. Contacting a pest control professional promptly after initially detecting a potential problem is the best course of action.

Our local specialists use many of the latest products and treatment methods for eliminating bed bugs. We use customized applications of steam that helps to drive bed bugs from their hiding places, as the temperatures are high enough to reach them through approximately ¾ of an inch of fabric.

We also will deploy a specialized chemical treatment option when needed to reach these pests that are positioned behind baseboards, inside walls, or beneath floorboards. Another tool we use is a portable heat chamber unit that is placed indoors and reaches temperatures exceeding 117 degrees, which is an extreme that bed bugs cannot survive.
Licensed Provider Of Pest Control Solutions In Jacksonville
In addition to bed bugs, our experts are well-equipped for effectively ousting infestations involving rodents, fleas, stinging insects, and a host of other burdensome and potentially harmful critters. Our management team is committed to standing behind the quality of our work with a satisfaction guarantee that ensures positive outcomes.

Did you know that the technicians with Lindsey Pest Services receive initial and ongoing training and certification according to the guidelines of the Florida Department of Agriculture and Consumer Services (FDACS) and other industry advocates that promote safety and environmental protection? We look forward to speaking with you to schedule an onsite pest inspection. Remember to ask your representative about our year-round protection plans that include quarterly treatment visits.
< Previous
Next >