Is It Dangerous To Have Fleas In My Jacksonville Home?
January 10, 2022
If your dog or cat is scratching incessantly, the first thing that will likely come to your mind is fleas. Fleas are a persnickety pest that, once in your Jacksonville home, can cause problems for more than just your pests. Even worse, you may not notice you have fleas until the infestation progresses and gets out of control.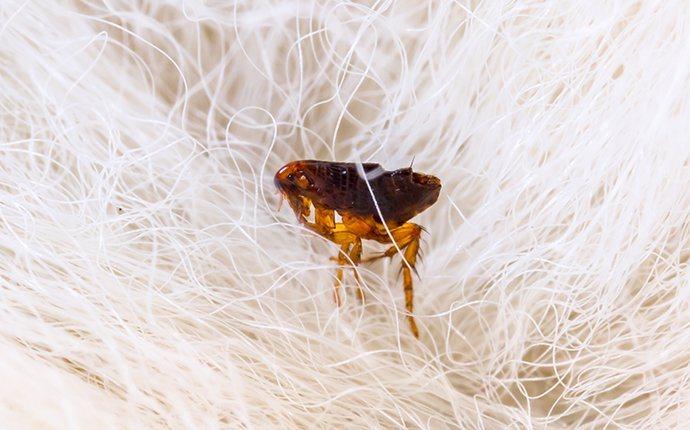 What Do Fleas Look Like?
Fleas are brownish-black and a bit bigger than a grain of course-ground salt. It's dangerous to leave a flea infestation unchecked. Fleas bring all types of health concerns into your home when they get on you or your pets. They carry diseases they can transmit, like the plague, murine typhus, and parasites. Flea control is vital to the process of exterminating them, but preventing fleas before they enter your home is more effective than most people think.
A Clean Home Can Still Get Infested
People don't tend to talk about flea infestations because they feel like they have a dirty house. That is not the case with fleas. It's surprisingly common for households with and without pets to get fleas, and they can get into homes for various reasons. Pets can bring them in from outside. You can bring them in by walking into your home from your car, or you could get them on your clothes from a friend's dog. There are plenty of ways to notice if you need to start looking into pest control for fleas.
How To Tell If You're Dealing With A Flea Problem In Your Jacksonville Home
If you have pets, are they scratching more often? That may be an indication that you have fleas, especially if they seem to be chewing on themselves. Put on a pair of long white socks and walk through areas your pets frequent or areas you suspect you might have fleas. After a bit, check your socks for what looks like little black specs. You may notice something was there, but when you went to get a closer look, it was gone. That's because they can jump roughly 200 times their body length.
If you still aren't sure you have a flea problem, take a shallow dish and fill it with water. Drizzle some dish soap or vegetable oil on top of it and place it in the area you suspect the fleas are. Use a lamp that puts out heat and place it over the water. Leave it overnight, and in the morning, if you have fleas, there should be some fleas in the water to confirm your suspicions. If you have fleas in the pan, be sure to call Lindsey Pest Control to start your flea treatment process.
You, Your Animals, Your Vet, And Your Pest Control Specialist
There are a few easy ways to keep fleas out of your home. Flea control starts before you even get fleas.
Treat your dog and cat for flea prevention and practice good house cleaning.
Vacuum in hard-to-reach places, like under beds and furniture.
Sweep and steam your hardwood floors.
Keep your pet's sleeping area clean and washed.
Remove debris from outside to deter fleas from staying in your yard. They like to live in clusters of leaves, branches, and twigs.
Even though you do your best to prevent fleas in your Jacksonville home, you still may find yourself dealing with these small pests. If you, your family members, or your pets have fleas, be sure to contact your veterinarian, doctor, and local pest service.
Partner With Lindsey Pest Services For Effective Flea Control
The experts at Lindsey Pest Servies have the tools and experience to keep fleas under control. If a problem ever develops, our team will customize a plan to remove your flea problem before it gets out of hand. To learn more about our flea control options and year-round pest control plans, reach out to us today.
< Previous
Next >