Why Are Fleas A Problem In Jacksonville?
May 30, 2022
Today, we're going to do a quick overview of how fleas present a problem. If you've never had a flea infestation, you'll find some very helpful flea facts here that can help you with flea pest control in Jacksonville. If you have had a flea infestation in the past, you may discover some new and surprising facts you weren't aware of. Here's what every Jacksonville resident should know about fleas and flea problems.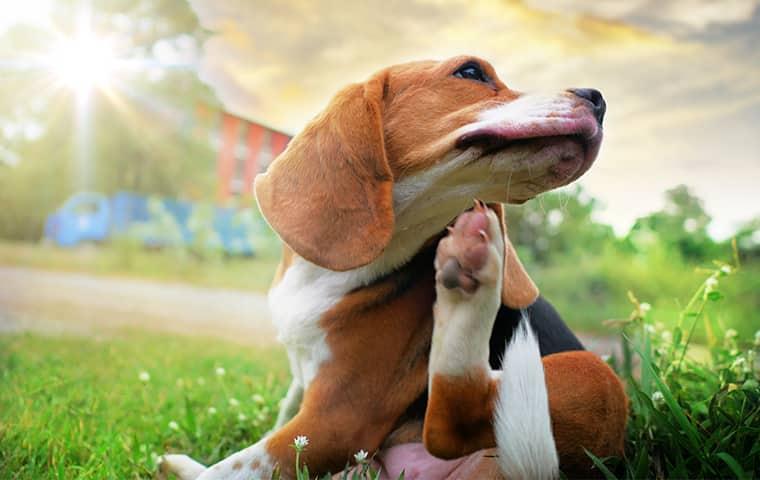 When Should I Expect To See Fleas?
While you're more likely to get a flea infestation in late spring and early summer, flea problems are not seasonal. You can get a flea infestation any time of the year. This is important to understand as you should never let your guard down when it comes to preventing flea infestations in Jacksonville.
Fleas Bite Humans & Pets
Fleas feed on blood. This is a problem. When these pests get into your home, you can expect to get flea bites. While fleas prefer the blood of domesticated animals, they'll readily bite people too. You can get flea bites on ankles, lower legs, backs, and sides. Flea bites on ankles commonly occur when fleas get into rugs or are breeding near the floor.
Flea bites on other parts of your body are likely to occur when fleas are infesting couches, chairs, and other furniture. Keep this in mind as you work to get rid of a flea problem in your Jacksonville home. When you consider who is getting bitten, and where the bites are occurring on the skin, it can help you to zero in on where the fleas are hiding and breeding in your home.
Fleas Can Carry Diseases
There are several flea diseases that can impact human health in Jacksonville. The most common flea diseases are Murine typhus, tularemia, bartonellosis (particularly cat scratch disease), and plague. While most flea infestations won't result in illness, it is important to be aware that there can be unexpected medical symptoms during a flea infestation. This is why effective flea control for your house is so important. When you properly address a flea problem, you can prevent illness for your pets and also the people living in your home.
How To Get Rid Of Fleas
There are some things you can do yourself to address a flea problem and some things that are best left to a licensed pest professional. How can you get rid of fleas?
Use products that are suggested by your veterinarian, such as flea collars, flea powders, and flea baths. This will help you with flea control inside your home.

Vacuum routinely, wash pet bedding, and clean key areas where pets lie.

If necessary, wash your own bedding in hot water and run these items through a dryer cycle.
These tips might be enough to get rid of fleas in your home and stop flea bites. If your flea infestation persists, or you need treatments for the exterior of your home, it is best to contact a licensed pest professional. Professionals use products and methods that are field-tested and known to work.
Jacksonville Flea Control
At Lindsey Pest Services, we offer industry-leading flea control for your house and we can provide flea control treatments for the exterior of your home to prevent future infestations. When these services are applied by trained and experienced individuals, you'll know that your flea problem has been properly addressed.
If you have questions about flea control that were not addressed in this article, or you'd like to request flea control service for your Jacksonville home, reach out to us. We're here to assist you with all your pest concerns.
< Previous
Next >