Keeping Your Jacksonville Home Pest-Free Throughout The Year

Many pests can get into your Jacksonville home. And when they get in, they often stay. Your home has a lot to offer them. On hot days, it is cool. On cooler days, it is warm. When a tropical depression moves through, and the ground is saturated, those pests are safe from drowning. When we go through a season of drought, bugs have all the moisture they need from the pipes in your home and the moisture in your bathroom. It isn't just cozy and safe in your home; many pests can find an abundance of food as well. They eat your pantry foods. They eat your wood. They eat your clothing, rugs, and other fabrics. They even eat each other. But you don't have to live with pests. Lindsey Pest Services has affordable residential pest control plans that give Jacksonville residents protection all year long.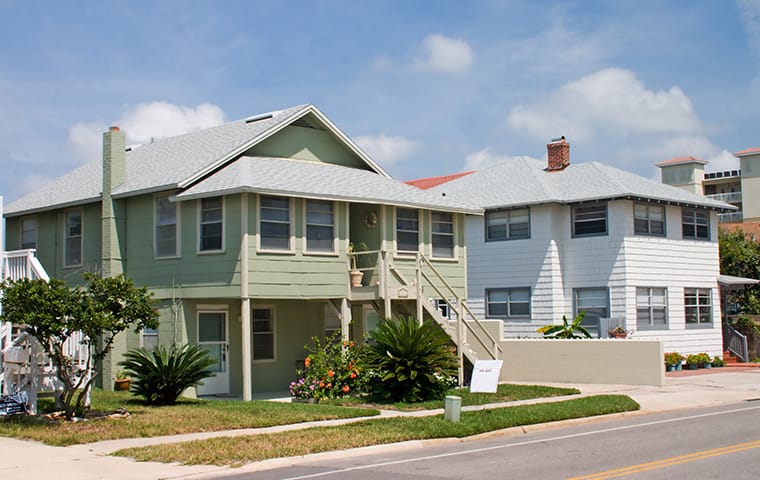 Wood-Damaging Pests
Termites — When a colony of subterranean termites attacks your Jacksonville home, it can threaten your equity. Termite protection is one of the pillars of residential pest control. It's like buying termite insurance. At Lindsey, we trust the Sentricon® System with Always Active to protect properties in Jacksonville. This award-winning system makes colony elimination easy.
Mice and rats — There are three Jacksonville rodents that commonly get into our homes. They are the Norway rat, the roof rat, and the ordinary house mouse. These rodents have teeth that can nibble through wood. They'll chew through wood to get into your home, and they'll chew through wood to gain access to hidden areas such as the voids behind your kitchen cabinets. We protect properties from rodents by monitoring rodent activity and reducing rodent populations with tamper-resistant traps.
Food-Eating Pests
Pantry Pests — Indian meal moths, beetles, and weevils top the list of pantry pests. Some pantry pests come in from the outside of your home, and some hitchhike into your home. We help keep you protected by applying treatments around your home four times a year and by offering tips on how to prevent hitchhikers from getting in.
Mice and rats — These animals commonly get into pantries and kitchens to eat food. Their teeth make this task easy. But when rodents are being caught and removed around your exterior, they are less of a threat in your pantry.
Ants and other crawling pests — Ants are the worst. They can be extremely tiny and challenging to keep out. We'll do a detailed inspection of your interior during your initial service and seal things up to keep creeping pests from getting in. After this, your exterior treatments will do the rest of the work.
Illness-Spreading Pests
Most cockroaches don't like living in your home with you. They would much rather be outside, crawling around in filthy places. But the select few species that do get into Jacksonville homes can present a threat to your health. Cockroaches can spread more than 33 kinds of bacteria, seven human pathogens, and six distinct species of parasitic worms.
Mice and rats — These animals spread illness by leaving their droppings and urine around and by rubbing their fur on food-prep surfaces and dishes after being in the trash or a dumpster outside. They also bring ticks, fleas, and other parasites inside. These parasites can transmit dangerous diseases.
Venomous Pests
Spiders — These are creepy pests that can jump you out of your skin just by appearing next to the light switch in your bathroom or the drain in your shower. But two types of spiders can be a threat. The black widow spider and the brown recluse spider; these two have venom that can be dangerous. We help residents protect themselves from spiders by targeting the food source spiders eat, providing insight to homeowners about harborage, and applying spider control when necessary.
Wasps, hornets, and bees — When a nest is created in your yard or inside your home, these insects can present a problem, especially if they are social insects. Social insects are protective of their nests, and they will swarm and attack anyone who comes near. We protect residents of Jacksonville by locating and removing nests before they can develop into a problem. Our highly-trained pest control technicians know where to look and what signs to look for.
Home Pest Control
No Jacksonville home should be without a home pest control program. Reach out to Lindsey Pest Services today. We would love the opportunity to guide you toward a suitable program for your specific needs and budget. We're standing by to help.