Custom Solutions, Proven Results, and Efficient Services in Orange Park, FL
Welcome to Orange Park, FL, a beautiful suburb of Jacksonville. With the St. John's River running along the town's eastern border, we're lucky to have easy access to water. But no one loves easy water access as much as pests. Nuisance pests are attracted to moisture and humidity, putting your Orange Park property at risk of pest infestation. To effectively protect yourself, you need year-round protection from the professionals.

Lindsey Pest Services is a locally owned and operated pest control company providing comprehensive pest solutions since 1957. We service residential and commercial properties throughout Clay County and surrounding communities in the Jacksonville area. With over 60 years of experience in the pest business, we have the knowledge and expertise to get the job done right. We're a QualityPro certified business and longtime members of the NPMA (National Pest Management Association). Contact us today to schedule your free inspection.
Residential Pest Control In Orange Park, FL
From large mansions to small single-family houses, every space needs protection from pest infestation. Pest activity isn't just a probability; it's inevitable, which is why you need year-round coverage. Lindsey Pest Services offers complete residential pest control solutions that you can count on. We currently service over 10,000 homes throughout northeastern Florida, protecting residences from over 30 common pests in the area. Our three service plans are customizable to fit your needs.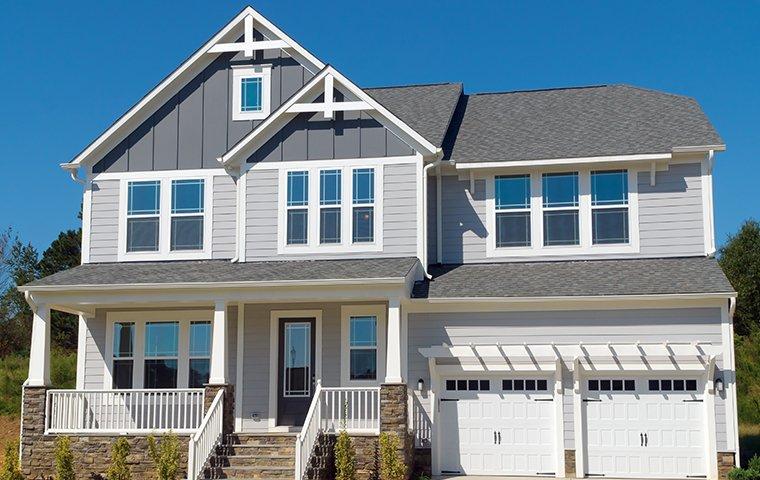 Our Good Pest Control Plan starts at $30 per month and offers treatment of common area pests such as ants, cockroaches, spiders, and more. All three of our plans provide a pest-free guarantee that promises retreatment if you see treated pests between service visits.
Our Better Pest Control Plan offers all of the benefits of our Good Pest Control Plan plus the addition of Sentricon® System with Always Active™ termite control, rodent control, and webbing and wasp removal. Starting at $45 per month, this is our most popular pest control plan.
Lastly, our Best Pest Control Plan offers warrantied treatment of common area pests, Sentricon® with Always Active™ termite control and monitoring, wasp removal, web removal, and rodent control, plus seasonal mosquito treatment and scorpion and stinging insect control. Starting at $55 per month, this is our most comprehensive recurring pest control option.
With so many pest attractants on your residential property, you need the absolute best in pest control and prevention. Not only will we eliminate pest activity from your home, but we'll return for follow-up maintenance visits to make sure you have continued, protected coverage against unwanted intruders.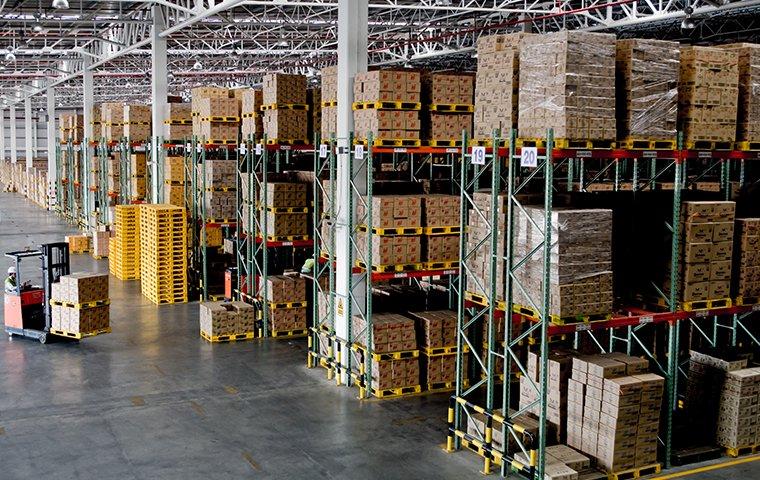 Commercial Pest Control In Orange Park, FL
So, your Orange Park business is doing well; that's fantastic news. The bad news is that no matter how well a business is doing, your facility is at risk of pest activity. To protect your reputation, your longevity, and most importantly, the health and safety of your employees and customers, you need professional pest protection. Lindsey Pest Services offers reliable commercial pest control services that protect your property from nuisance pests all year long.
We know that every business is different. They have different inventories, schedules, and concerns that alter how we manage your pest control program. With over 60 years of experience, we have helped businesses of all sizes with their pest problems. Whether you own or manage a large warehouse, healthcare facility, restaurant, school, or other property, we will develop a plan that works with your unique concerns and schedule.
By using our comprehensive IPM (Integrated Pest Management) system, we will come in and treat the problem at its core. Our pest experts develop the perfect approach, tailor-made to suit your business; plus, we come back all year long for return maintenance. Call us today and let us take care of all your pest control needs.
Are Mosquitoes In Orange Park, FL Dangerous?
We associate mosquitoes with red, itchy bites that are annoying. Once a mosquito notices your presence, many more are likely to follow. As they circle your body looking for an opportunity to bite, all you can do is swat them away and hope for a chance to smack them once they land.
Though they are obnoxious, mosquitoes pose a significant threat earning them the status as one of the most dangerous animals on the planet. Female mosquitoes feed on blood. They are opportunistic and diligent as they require a blood meal to lay their eggs. As they feed on blood from various animals, they serve as vector pests for dangerous diseases. Mosquitoes will pass diseases such as chikungunya, dengue fever, encephalitis, malaria, tularemia, West Nile virus, Zika virus, and more to the people they bite. As a result, it's important to do your best to reduce your chances of acquiring a mosquito bite and reduce the mosquito population around your home as much as possible.
You can protect yourself by wearing light-colored clothing that covers your body. Long pants and long sleeves will reduce areas where mosquitoes can bite. The CDC also approved repellants containing DEET and picaridin for added protection. To help control your population in your yard, you need to reduce areas of standing water whenever possible. This includes water that pools in playground equipment, wheelbarrows, buckets, tarps, and gutters. Inspect your property and empty these areas often, especially after rainfall.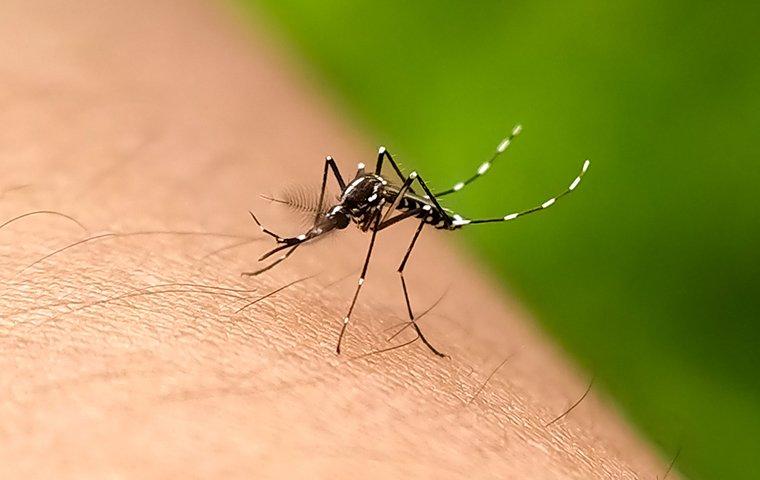 Though you can do your best to mitigate your population, the most effective way to control mosquitoes on your Orange Park property is by reaching out to the experts. At Lindsey Pest Services, we offer mosquito control and prevention services that will noticeably reduce your mosquito population. Using backpack misters, we treat resting areas and breeding sites to kill females and their larvae. In the end, you can enjoy your yard again. Call us today to discuss our professional mosquito control options.
What Are Some Common Signs Of Termites In Orange Park, FL
If you want to protect your home from termite damage, you need to be proactive. Several clues indicate termite activity on your property, and it's crucial to detect them so you can stop the problem as soon as possible. Here are some common signs of termite activity:
Damp, damaged, or weakened wood

Gallery tunnels through drywall

Hollow-sounding wood when tapped upon

Mud tubes along your foundation

Painted walls that bubble and peel

Swarmer termites flying around looking for new places to nest

Tapping sounds from inside the walls

Wings discarded on the floor near doors and windows

Windows and doors that are hard to open

Worker termites in the soil which look like white ants
If you notice any of these signs in and around your property, you need to take immediate action. Contact the team at Lindsey Pest Services for the most comprehensive termite control and prevention services in the area. We'll schedule your free inspection right away.
Dependable Pest Control Solutions In Orange Park, FL
Orange Park is a suburb of Jacksonville, Florida, known for its proximity to the nearby Naval field and the St. Johns River. As with all of Florida, our wetlands and humid climate mean that pests can be problematic for residents all year long. If you don't know how to prevent them and act fast when infestations crop up, you can suffer the severe side effects of a pest infestation. At Lindsey Pest Services, we help you avoid these problems entirely, with effective treatments and step-by-step assistance keeping pests at bay. Learn how we can help your Orange Park property stay pest-free.
Why Do-It-Yourself Bed Bug Control Doesn't Work In Orange Park
Bed bugs are one of those pests that are not guaranteed to stay off your property, contrary to what some online sources might tell you. Popular belief holds that bed bugs only hit dirty properties, but this isn't true. Bed bugs only care about one thing: finding people to feed on. That means, wherever there are people, bed bugs are attracted. This is why DIY methods can't account for the many ways that bed bugs get inside of homes and businesses. Here are just some of the ways bed bug infestations tend to start:
Hotspots: Because human activity attracts bed bugs, hotspots of people tend to be hotspots for bed bugs, too. Places like hotels, transportation hubs, and shopping malls are all bed bug hotspots.
Used Items: Bed bugs can infest a wide range of items, not just mattresses. Bringing used furniture, clothing, or other items into your home without inspecting them thoroughly can also lead to bed bugs.
Eggs: The other reason DIY bed bug control doesn't really work is that products target bed bugs but not their eggs. This means that following DIY treatment, eggs will hatch and replenish their numbers.
Let the experts provide you with proper bed bug control by contacting Lindsey Pest Services today.
Why Homeowners In Orange Park Should Consider Rodent Control
Rodents aren't a problem you want to just think about once you notice the signs of mice or rats in your home. By then, it can be too late to avoid the serious problems that rodents cause.
Here is why it is essential to turn to professional rodent control options long before rodents can become a hazard to your home:
Damage: Mice and rats have front teeth that never stop growing, so they file them down by chewing on just about any household items you can think of. The damage rodents can cause can be severe and costly.
Disease: Rodents are also known to carry diseases like plague and salmonella, which is why they can pose direct threats to your health. They also tend to have ticks and fleas, which can cause their own concerns.
Population: Rodents can quickly grow out of control, which is why you need to turn directly to the pros if you notice a population is already there.
Contact Lindsey Pest Services today to get started on proper home protection against rodents.
How Bad Is It To Have Fleas In My Orange Park Home?
Fleas are one of those pests that people have misconceptions about. For one, they don't only bite pets, meaning even properties without animals in them can be a target for fleas. For another, fleas don't just lead to itchy bite marks that will heal on their own. Like most parasites, fleas can spread serious illnesses to you or your loved ones. Don't take a chance on pest control. Instead of waiting to see if a problem is noticeable before you think about preventing it or assuming that a certain kind of pest won't target your home, the better course of action is to turn to the experts right away. At Lindsey Pest Services, we can thoroughly inspect your Orange Park home for signs of fleas or the things that attract them. We can assist you with preventative measures and treatments that help protect you from all kinds of infestations. If you already have a flea problem, let us solve it quickly and make sure it doesn't return. Contact Lindsey Pest Services today.
Benefits Of Professional Ant Control In Orange Park
Ants are a pest that seems to come out of nowhere and be impossible to contain. Their populations form in the thousands, and they are small enough to easily hide or access many places around your property that are inaccessible for you. That's why professional ant control is better than trying to tackle the problem on your own. Save yourself the hassle and turn to the experts at Lindsey Pest Services. Here are some of the main factors of why our services are better than a DIY approach:
It Works: Unlike Do-It-Yourself ant control, professional methods work. That's because we target the entire population, including the reproductive queens, rather than just the surface problem.
Other Pest Control: As with most problems in life, one issue often leads to another. This is undoubtedly true of ants, which can attract other pests to your property. Professional pest control takes care of all these problems at once.
Future Prevention: Professional treatments also shield your property from future infestations, helping to ensure that the never-ending domino effect of pest infestations breaks for good.
Don't try to deal with ants or other pests all on your own. Turn to Lindsey Pest Services today.
The Dangers Termites Bring To Properties In Orange Park
When it comes to pests, few are as destructive as termites. Over an extended period of time, a termite infestation in one part of your home can quickly spread throughout it, or leave extensive damage to vulnerable areas like foundations.
Beyond directly damaging your home's structural stability, termite damage can quickly leave your home with lasting residual problems. Moisture, dirt, and other harmful materials that can now get inside through the holes they've dug. Not to mention, other pests could get inside as well.
Termites can strike at any time. If you're unprotected, there's never been a better time to call Lindsey Pest Services for help. Using a diverse line of strategies including the Sentricon® Termite Colony Elimination System, we'll quickly and completely eliminate termite activity around your home - and keep it protected moving forward.